Details

By

TCT Magazine

TCT Magazine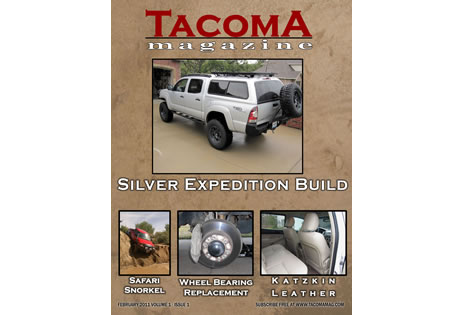 Tacoma Magazine Volume 1, Issue 1!
Time has been flying here at Tacoma Magazine and we're happy to finally release our first full issue!
In this issue you will find helpful tips for installing your new Safari Snorkel from Cruiser Outfitters along with a "How-To" writeup for extending your rear differential breather. For those of you who are interested in a great looking leather interior, make sure to check out the Katzkin Leather install. Also in this issue you will find front wheel bearing replacement tech as well as to new products from one of our favorite vendors. Ever wonder why the 4x4 switch is not illuminated? We've got a high quality, easily installed solution.
Make sure to keep up with us on Facebook and Forums to get the latest news.
You can download the PDF of this Issue here:

You can also order a printed copy from our partner, MagCloud.com: