Details

By

Chris Nelson

Chris Nelson
Picture yourself driving along a trail and enjoying the great outdoors.  You turn a corner and come to a difficult section.  After a couple tries you manage to get hung up with no ability to drive forward or backwards.  What is your next step?  There are a few things to consider that I'd like to share.

Take your time: It is easy to get caught up in the heat of the moment when you are stuck.  You may be worried about your vehicle getting damaged, and people may be frantically shouting advice.  This can lead to injury and damage.   So, take a break.  Realize you are stuck and get out to look.  Knowing when to quit is a key element to preserving your vehicle and the trail.   By getting in a calm mindset you are more likely to make better decisions.
Please download the Full PDF to continue reading this story. It's Free!
You can also view this
entire issue online
!
Details

By

FJC Magazine

FJC Magazine
FJC Magazine July 2008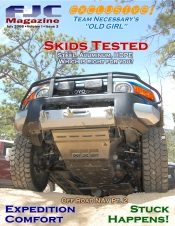 Thanks for checking out the latest issue of FJC Magazine. It's a busy time of year for us in preparing for the FJ Summit. We hope you enjoy this very special issue of the magazine.

Table of Contents:
Skid Comparison
Expedition Comfort
Off Road 101. . . Trail Armor
Dirty Toys School
Off Road Navigation, Part 2: Portable GPS
Team Necessary's "Old Girl"
Features:
FJ Bruisers Spring Mud Fling
2nd Annual Thrill on the Hill
Featured Rigs: MIR & Air2Air
WAAG XS Basket
Stuck Happens!
Download the version that's right for you:
*Choose this link if you'll be viewing the Magazine on your computer
*Choosethis link if you plan on printing the Magazine, it has a white background to save on ink.
NEW! View this issue live online with iPaper (Flash Required)