FJC Magazine July 2008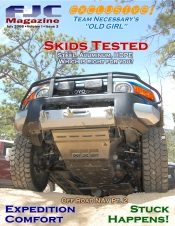 Thanks for checking out the latest issue of FJC Magazine. It's a busy time of year for us in preparing for the FJ Summit. We hope you enjoy this very special issue of the magazine.

Table of Contents:
Skid Comparison
Expedition Comfort
Off Road 101. . . Trail Armor
Dirty Toys School
Off Road Navigation, Part 2: Portable GPS
Team Necessary's "Old Girl"
Features:
FJ Bruisers Spring Mud Fling
2nd Annual Thrill on the Hill
Featured Rigs: MIR & Air2Air
WAAG XS Basket
Stuck Happens!
Download the version that's right for you:
*Choose this link if you'll be viewing the Magazine on your computer
*Choosethis link if you plan on printing the Magazine, it has a white background to save on ink.
NEW! View this issue live online with iPaper (Flash Required)