Details

By

Shane Williams

Shane Williams
Warrior Products (www.warriorproducts.com) wanted to send over their brand new FJ Cruiser Front Winch Bumper for us to install & test on a brand new FJ, so we we jumped at the chance. Tim was kind enough to allow the use of his 2012 TT SE Radiant Red FJ for the project, and met us at High Country Performance 4x4 for the install. Eric, Dennis, and Valerie from HCP were very gracious in letting us use their shop. Special thanks go out to Dennis for his patience during the install. The folks at HCP 4x4 are true professionals and do amazing work!
The instructions provided with the Warrior bumper are adequate and the install should normally take 3-4 hours if you have all the tools needed. Since this FJ is a 2012 there were a few special issues we had to contend with that were not in the original instructions. Our notes have been sent over to Warrior Products so they can include 2010+ specific steps.
Details

By

Shane Williams

Shane Williams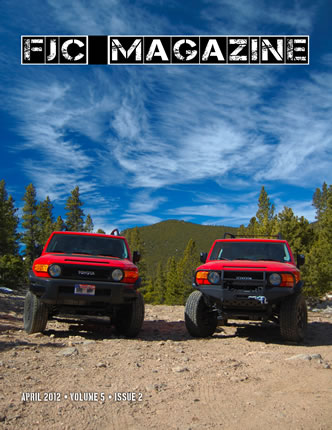 Here you go! No fools this April 1st, just pure, awesome FJC Magazine!
~TWIN 2012 TT SE FJ Cruisers
~Warrior Bumper Install
~iPad GPS Apps
~Ultimate FJC Information Center
~Colorado Trail Patrol Training!
~MORE!!
Spring has arrived early in Colorado and most places around the country. We recommend downloading this on your lunch hour so you don't miss a second on the trail. We hop you enjoy this issue of FJC Magazine!
To get your copy of the April 2012 issue of FJC Magazine:


Until next time, Tread Lightly, Stay the Trail, and HAVE FUN!
FIND US ON: