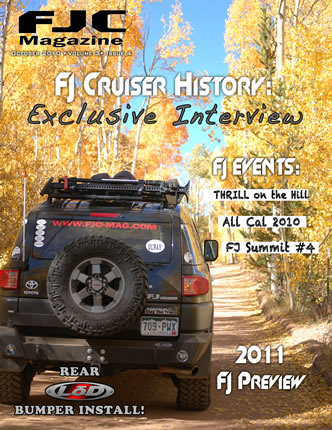 Fall is in the air, so it must be time for another issue of FJC Magazine. We're very excited to bring you one of our best issues to date! As we close out our third year of publication, we first want to thank everyone for their support. We simply could not produce such an amazing publication without our contributors, subscribers, vendors, and friends, so thank you!

This issue of FJC Magazine includes some amazing stories and anecdotes from three FJ Cruiser events: The FJ Summit, Thrill on the Hill, and All Cal 2010. Of course we've included plenty of awesome photos as well, so you're sure to enjoy all of our event coverage.

We finally got the LoD Rear Bumper installed, so checkout our pics and get all the info on page 4. We decided now would be a good time to round-up all of Lance's Expedition Wheeling articles, so see page 17 for a summary of every article he's written for us.

Perhaps our favorite feature this issue is an exclusive interview with Joe Bacal, lead test driver during the development of the FJ Cruiser. Joe has also included a few rare photos of the prototype FJ Cruiser performing some amazing feats. ALSO, starting in January 2011 Joe will be answering your FJ Cruiser related questions. You can ask Joe anything about the FJ Cruiser and we'll publish your question and his answers in our new feature coming in the next issue. Simply e-mail your question to This email address is being protected from spambots. You need JavaScript enabled to view it..

Some other great stories you'll find in this issue:
Taft is back with a long term review of the Baja Rack basket for the OEM FJ Rack.
We have some insight on the newly announced 2011 FJ Cruiser.
Fuel Magazine sent us an update on their Project FJ.
We have new products from Sierra 4x4 Trailers AND Otterbox, so check those out!
To get your copy of the October 2010 issue of FJC Magazine:


Until next time, Tread Lightly, Stay the Trail, and HAVE FUN!

P.S. Interested in Toyota Tacoma Trucks? We're happy to announce that we'll be starting publication of Tacoma Magazine early in 2011. You can subscribe (for free of course) right now at www.tacomamag.com. Look for a preview issue this fall too!