Wow what a great summer! It was great to meet so many FJC Magazine readers & other FJ owners at the Thrill on the Hill & FJ Summit!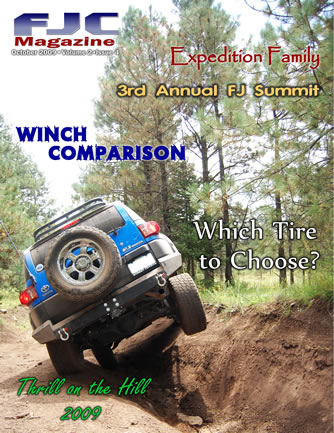 We've got pics & info from both of those events, plus much more in the eigth issue of FJC Magazine. As always, if you're looking for Toyota FJ Cruiser information - FJC Magazine has you covered! One change we want to let you know about is that FJC Magazine now includes a white background on most pages, so there's only one download link, which is still printer friendly.
What's inside this issue:

2009 FJ Summit
2009 Thrill on the Hill
Winch Comparison
Kenwood NAV Follow Up
Expedition Families
Off Road 101: Which tire to choose?
Reader Rigs: Eric's BD & Jon's TRD
New Products: Rear Diff Skid Armor, Front LCA Skids, and the new Baja Rack Basket
New for this issue! Our regular issue is now printer friendly, so there's only one download link.
Get your copy of
FJC Magazine HERE
NOTE: Internet Explorer users should right click and select "Save Target As"
You can also view this issue Online


Just a reminder that FJC Magazine supporters have full access to all the online articles (including MANY more photos), the online Flash Version, and less advertising on the web site. We also e-mail breaking FJ Cruiser news to all supporters. We ask for an annual donation of just $12 to become a supporter. More details are here.