2010 FJ Cruiser Specs Revealed?
Details

By

Shane Williams

Shane Williams
According to a PDFposted on the www.toyota-4runner.org website, the 2010 FJ Cruiser will include a couple of changes.
The first thing that jumps off the page is the loss of VooDoo Blue as a color option, and the addition of "Army Green". What shade of green is still up for speculation, we're hoping it looks something like this: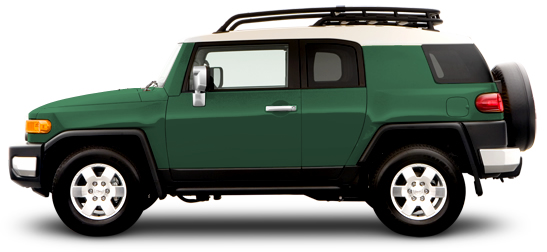 Other changes include an updated 4.0L engine that increases horsepower by 20hp, yet decreases torque by 8ft/lbs. The document also states a higher EPA mileage estimate (a max of +2mpg for the 4X2 FJ Cruiser), a slightly smaller turning radius, and a larger winshield washer tank.
The document also re-states the specs for what was supposed to be the 2009 Trail Teams Special Edition, that will now be a 2010. This is the all Sandstorm FJ we spoke about last July. We're still not super excited about the TT, but it'll be nice to see a few more specialty FJ's on the road.

The full PDF can be downloaded here
NOTE: This information has not been verified and may or may not be accurate. If it is, it looks like 2010 will be a great model year for the FJ Cruiser.
UPDATE: We've now been out wheeling with a 2010 Army Green FJ!
We'll have COMPLETE coverage of the new FJ in our January 2010 issue. Have you subscribed? (it's FREE!)



Free Subscription!
{jform=6}