Details

By

Bob Holliday

Bob Holliday
Looking for a snorkel specifically designed for your second generation Toyota Tacoma? Look no further! Airflow America, the North and South America distributor for Airflow Vector Pty Ltd from Australia is set to release their latest creation, a snorkel molded directly from the second generation Toyota Tacoma. Airflow has leveraged 20+ years of experience in designing and making snorkels to create a snorkel that fits the Tacoma's contours and engine specifications, supplying the right amount of airflow needed throughout the power band. The snorkel has been put through several computer simulations to improve results and field tested throughout the United States for close to two year before their official release at the end of December 2012.
Details

By

Wyatt Scott

Wyatt Scott
Toyota has made a number of variations of the Tacoma, from the venerable 5 lug standard cab to the unmistakable Double Cab Long Bed 4WD and everything in between. Some have purchased the awesome Prerunner version of the Tacoma, have built it to the exact specifications wanted, then taken it out on the trails and have loved it. But, some have been left wanting more when the trail got tough; you got left behind, even with the addition of the factory rear locker. You just didn't have the extra benefit of power going to those front wheels.
Details

By

TCT Magazine

TCT Magazine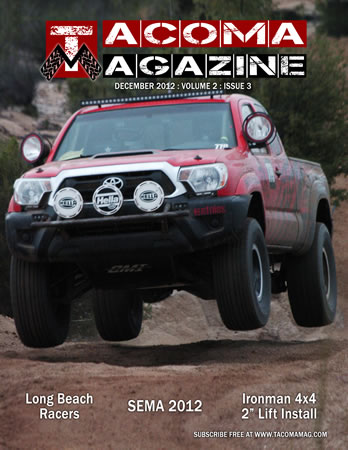 All I want for Christmas is....the December issue of Tacoma Magazine! This issue is full of the best Toyota Tacoma Truck coverage you can ask for, including: our 2" Ironman 4x4 Lift Kit install; a 2WD to 4WD conversion; a look at the Airflow America snorkel and other new products, and an intro to Overland Expo's Project JATAC. We've got full coverage from the 2012 SEMA show in Vegas, and Shane (and family) took a trip to Bozeman for the Expedition Overland Season Finale Premier.
We hope you enjoy this issue, and thank you for supporting Tacoma Magazine! We can't wait to see you on your trails!
Until next time: Tread Lightly, Stay the Trail, and Have Fun!


Remember, tell your friends! They can subscribe for FREE using this link!