Details

By

Patrick Haggerty

Patrick Haggerty
Before choosing a CB radio for your FJ, it is important to understand that all stock CB radios broadcast with the same amount of power due to regulation imposed by the FCC. When CB radios are produced, the products must transmit at or under 4 watts of power in order to be within regulation. This is important as it makes choosing a CB radio less about the power and more about choosing a radio that fits your vehicle and your needs.

Choosing a CB Radio for your FJ
FJ drivers are often avid off-roaders, and as a result, we have seen almost every model of CB installed inside an FJ. While there is room to install almost any radio, we have found that compact CB's are the most popular choice. Our favorite compact CB's are the Cobra 75 WX ST and the Uniden 510 Pro XL.


Details

By

Shane Williams

Shane Williams
Half a world from home.
In the middle of the desert.
Two women with a truck, a map, and a compass.
Is this crazy?

The Team X Elles motto 'Do The Crazy Thing' means more than just running a rally on another continent. It's about finding (or in some cases re-discovering) that inner love of adventure. It's about doing something not because it's easy, but because it's hard (to paraphrase JFK). Last year two women, mothers that barely knew each other, made the decision to experience adventure in a way most people could never imagine.
Details

By

Shane Williams

Shane Williams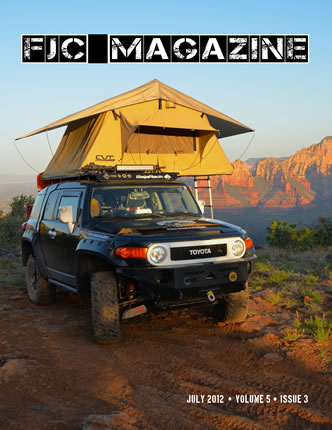 July is upon us and we're hard at work getting ready for the FJ Summit in a few weeks. However we were able to throw together our largest issue of FJC Magazine ever! This issue is packed with articles from the 2012 Overland Expo, a CVT Tent Review, a very special Featured Rig, more info on Team Xelles, CB's, tire tests, Bubba Rope for recovery, and more!

We hope you enjoy the July 2012 issue of FJC Magazine!
To get your copy of the July 2012 issue of FJC Magazine:


Until next time, Tread Lightly, Stay the Trail, and HAVE FUN!
FIND US ON: