Details

By

Shane Williams

Shane Williams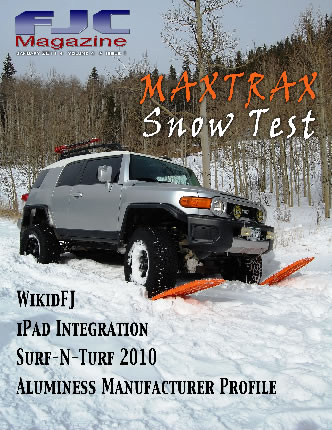 Greetings and Happy New Year from FJC Magazine! We're excited to begin our fourth year with more amazing FJ Cruiser coverage!

Colorado. December. Snow. A perfect testing ground for MAXTRAX recovery gear. We have full coverage of our MAXTRAX test and you will definitely want to see the details! If you've been following along our Facebook page you already know about our iPad Integration. We have all the info you need to add an iPad to your FJ starting on page 4. We also got to visit Aluminess and get a behind the scenes look at their production, check out page 24 for all the info. Don Lamb from FJCruiserForums.com hooked us up with exclusive coverage of the new look for "WikidFJ" and Steven D sent in some great coverage of the 2010 Surf N Turf event.

So dive right in and enjoy the new issue of FJC Magazine!


To get your copy of the January 2011 issue of FJC Magazine:


Until next time, Tread Lightly, Stay the Trail, and HAVE FUN!


Until next time, Tread Lightly, Stay the Trail, and HAVE FUN!

P.S. Interested in Toyota Tacoma Trucks? We're happy to announce that we'll be starting publication of Tacoma Magazine on February 1st! You can subscribe (for free of course) right now at www.tacomamag.com or download the preview issue RIGHT NOW