Along the way, members of off-road clubs all across America will host special events for the brave men and women and will accompany them on the trails.  Riding with the groups will surely bring smiles to the faces of their esteemed passengers.  At nightfall, they'll be treated to a terrific meal with everyone, and some will also be able to enjoy their peaceful surroundings by camping out in the most beautiful national parks in the country.

To increase the sensation that an open-air vehicle provides, a 2008 Jeep Wrangler Unlimited Rubicon has been purchased.  The doors will be removed throughout the adventure, which will benefit those who have lost partial eyesight and/or hearing; a common occurrence resulting from rocket, mortar, and other explosive-type attacks.  The Jeep is currently in the process of being customized and will truly be a one-of-a-kind vehicle.

Even though the main portion of the event will not begin until the weekend of April 4-5, 2009, several charity events will be held between now and then in each State where a main event is scheduled.  The charity events will not only help increase awareness of the program, but also help raise funds for use during the main events for expenditures such as food, campsite fees, special activities, medical personnel, and more.  All of the money raised at charity events, 100% of it, will be used to fund the main events.

Wheelers for the Wounded is seeking sponsorships from various companies who are leaders in their industry to provide things such as items for raffles and geo-cache events, food and entertainment.  Wheelers for the Wounded is part of a non-profit organization with a 501(3)c designation.  Wheelers for the Wounded is currently proud to have the support of the following partners and supporters:  TeraFlex, KC HiLiTES, Tread Lightly, Smittybilt, Hi-Lift, True Flow, Trail Duty, High Country Performance 4x4, Overbuilt Customs, Outlander Trailers, Mombasa Outdoors, Raingler, Warn, Bushwacker, and Tuffy.  In addition, Four Wheeler magazine is a supporter of the program.

Jason will be writing an article upon the conclusion of each month of the program, which will be printed in Four Wheeler magazine.  Photographs will accompany the articles.  A multi-media company has contacted the organization with the goal of filming a documentary about the program with plans to release it on DVD as well as have it televised on a cable television network.  The details for this are currently being worked out and both parties involved are motivated to see this through.  Press releases to newspapers and television news networks will be sent out prior to each event.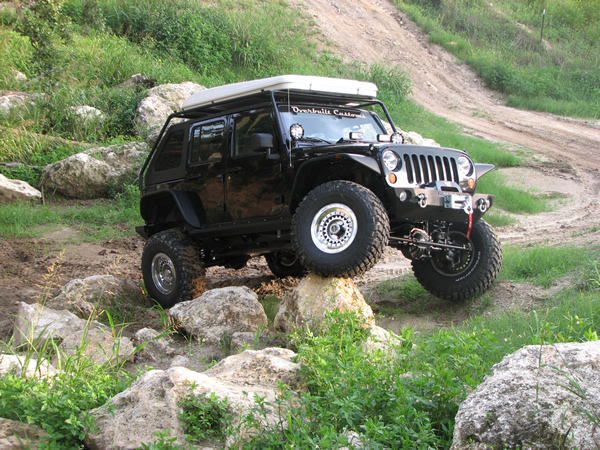 About The Founder/President

Jason Havlik enlisted in the Army Reserves in 1989 at the age of 17.  Upon graduating from high school in Jacksonville, Florida in 1990, he attended Basic Training and Military Police School at Ft. McClellan, Alabama.  Upon completion of his training, he volunteered to deploy to serve in the Gulf War.

After returning from the war in July 1991, Jason enlisted in the active duty Army and spent the next 10 years serving his country.  During his enlistment, Jason served two tours in the Bosnian peacekeeping mission and one tour in support of the Kosovo peacekeeping mission.

Jason exited the military in May 2001 and was hired by the Collier County Sheriff's Office located in southwest Florida as a Law Enforcement Officer.  In time, he was promoted to corporal and later to Investigator when assigned to the Criminal Street Gang Unit.

In February of 2007, Jason made the decision to go to Iraq to serve his country once again.  He left for training in May, and arrived in Baghdad on June 5, 2007.  He is a private contractor for the U.S. Department of State and is assigned to various Army and Marine units in Fallujah, Iraq.

Rather than return to the States on June 4, 2008 upon the completion of his contract, Jason elected to extend his contract and remain in Iraq until March 2009.  He is looking forward to going home at that time and beginning his trip around the country in support of wounded military members.

Jason is 37 years old, has no children and has never been married, but is close to his immediate and extended family and misses them daily.  When back in the United States Jason enjoys off-roading, camping, traveling, jogging, and spending time with family and friends.

Websites
www.wheelersforthwounded.org
www.myspace.com/wheelersforthewounded
{tab=July 2009 Colorado Event}
The July WFTW Colorado event is slated for July 18, 2009 from 10:00 am to 7:00pm in the Buena Vista Area and will include a late morning meet & greet and staging at the Chinaman Gulch/BV Carnage trailhead, trail runs including Boulder Mountain and/or Mount Antero, Chinaman Gulch, Grizzly Lake and/or Iron Chest, Mount Princeton, and Tincup Pass, and then an evening BBQ for all participants.

The July WFTW Colorado event is being hosted by a number of Colorado 4-wheel drive clubs and the number is growing.  The Colorado chapter of the Toyota Territory Off-Road Association began the effort in 2008 and since that time members of the Colorado4Wheelers, Colorado4x4.org, Front Range 4x4 and Rising Sun, among others, have jumped at the opportunity to make this happen.  We are constantly on the lookout for participants from all facets of the off-road community and strongly encourage folks from any of these veins join us.  Anyone who would like more information about the July Colorado event can contact Eric Ross at This email address is being protected from spambots. You need JavaScript enabled to view it. or through the Wheelers for the Wounded forum in the Colorado section.
{tab=Nationwide Events}
For those interested in attending this event elsewhere in the lower 48 states, here is a schedule of the 2009 main events, along with their host clubs:

Florida (Hummer X Club & Venture Jeeps) - April 4-5
Arkansas (Mid-South Jeeps) - April 18-19
Texas (Midnight Four Wheelers) - May 2-3
New Mexico (Las Cruces Four Wheel Drive Club) - May 9-10
Arizona - (Disabled Explorers) - May 16-17
Utah (Non-Official Event) - May 20-24
The Rubicon Trail (Pirates of the Rubicon) - June 6-7
Nevada (Sands Regency Casino Hotel) - June 17 - 21
Oregon (Pacific Northwest 4-Wheel Drive Association) - June 27-28
Washington (Timber Tamers) - July 3-5
Idaho (Hillbilly Rock Krew & Snake River Off-Roaders) - July 11
Colorado (TTORA) - July 18-19
Oklahoma (Jeep Thing) - July 25-26
Kansas (Brush Beater Jeep Club) - August 1-2
Colorado (Mile-Hi Jeep Club) - August 1-8
Missouri (Ozark Mountain 4x4 Club) - August 7-9
Kentucky (Kentucky Mountain Crawlers) - August 14-16
Kentucky (Muddy Buddy's Jeep Wrangler Club) - August 21-23
Tennessee (Clarksville Off-Road Enthusiasts) – August 22-23
New Jersey (North Jersey Jeep Club) - August 29-30
Maryland (FJ Bruisers Off-Road Club) - September 12-13
Virginia (Tidewater Four Wheelers & Beltway Jeepers) - September 18-20
Georgia (Matanzas Jeep Club) - September 26-27
Texas (TTORA) - October 3-4
{/tabs}